SIBF System : Solid immobilised Bio-Filter System
A sustainable initiative for natural wastewater treatment
We wish to introduce our natural & sustainable wastewater treatment system – SIBF System based on ecological engineering. The treated water conforms to PCB norms & can be used for gardening / landscaping and irrigation, construction, toilet flushing, etc. We wish to share that most of our clients have evaluated all the conventional & natural systems before implementing our SIBF system. Now, they are enjoying the benefits for many years!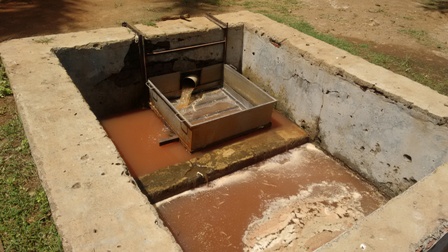 Raw wastewater from slaughterhouse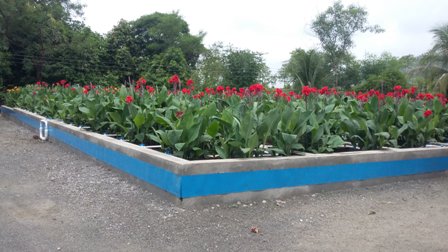 SIBF system at a Slaughterhouse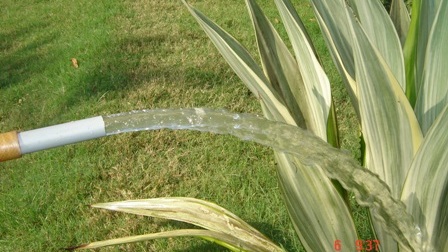 Treated water from SIBF system
Typical Hydraulic-Flow Diagram of SIBF System

Advantages of SIBF System
The SIBF system has been innovated to deliver the following:
SIMPLE TO OPERATE: The SIBF system is very simple to operate (mainly housekeeping & gardening activity).
MEETING POLLUTION BOARD NORMS: The pollution problem is solved, thereby, contributing to a cleaner and better environment. The treated water satisfies the State Pollution Control Board norms.
HUGE SAVINGS ON WATER PROCUREMENT COST: The treated water can be reused for gardening and also for toilet flushing. Thus, there is huge saving on procurement of costly drinking water. While reusing for gardening, there is groundwater recharge too!
HUGE SAVING ON ELECTRICITY: There is a huge saving on electricity while operating the SIBF system. The SIBF system saves about 80% - 90% of electricity over the conventional treatment methods. The cost of sewage treatment with our SIBF system is only about Rs. 3/- to Rs. 5/- per 1000 litres. Hence, there is a substantial cost saving.
NO SECONDARY SLUDGE IS GENERATED: The trapped impurities in the biofilters are stabilized by the ecosystem & the stabilized matter is taken up as nutrients by the canna plants. So, there is no sludge formation. Thus, there is no need for any sludge disposal facility unlike other treatment methods.
MEETING GREEN BUILDING CRITERIA: The SIBF system is been set up for wastewater treatment in upcoming 'Green Building' projects.
STURDY SYSTEM: SIBF system functions consistently even during fluctuating flows.
AESTHETIC FEATURE: The system has a garden look and appears as a part of landscaping in the campus.
Some additional information
We wish to inform you that we have been awarded CII's NATIONAL AWARD for most INNOVATIVE WATER MANAGEMENT SYSTEM–"SIBF SYSTEM" for 2012.
PMO – Ministry of Water Resources (River Development And Ganga Rejuvenation), has referred our "SIBF System" to some Municipal Corporations to explore the possibility for implementing natural waste water treatment in a decentralized manner.
A "World Bank" team with Govt. officials from "JALSWARAJYA-II" project visited our installation and have shown interest in our treatment system.
SIBF System at Bharati Medical Foundation, Sangli, has been installed for treating 400 m3/day wastewater. Here, the treated water of daily about 40 tankers is being reused in the campus and also by nearby farmers & Forest department.This water is available throughout the year including summer!
We are STP consultants for ATMANTAN resort (300 m3/day) – SparshInfratech, Pune, which has been implemented for Gold category LEED certified project. IMPORTANT NOTE: Here, the existing conventional STP – MBBR system has been converted into our SIBF system.
There are many such installations where the users are enjoying the benefits for many years.
We are consultants to many GREEN projects (GRIHA, LEED, etc.) for various institutes, ashrams, townships, Govt. organizations (DRDO, Police academy, Municipal corporations, Zilla Parishads, etc.) & industries.
Presentation
For further details about the SIBF System, please take a look at the presentation below: